When The Stories Were Simpler
Limited Edition
Style:
Boho
Eclectic
Modern Farmhouse
Traditional
A throwback to the joy and simplicity of younger days.
Only 1 available for dispatch
Delivery within 7 - 12 days
Free Express Shipping
Final Sale
Securely Packaged
Inspired by the innocence and joy of youth, this eccentric wall art is guaranteed to draw everyone's attention. Hand-embroidered in waterfall sequins and thread with a printed cotton satin fabric background that underlays the entire design. The shoe is fabric sculpted to make it look oh-so-glamorous!

Product Dimensions: 25" x 18"

What's Included:
- Ready-to-hang limited edition framed textile artwork
- Handcrafted frame
- Kraft paper backing
- Hanging hardware
- All included in a box that is as stunning as the artwork it holds!

Note: Since every Underlyn product is an original work of art that's handmade, subtle variations may occur in color and /or craftsmanship. This is what makes our products truly one-of-a-kind.
Shipping
We offer FREE VIP SHIPPING worldwide on orders over $500. International orders (shipped outside of India) might be subject to customs duties and taxes at the time of delivery. Any shipping charge applied does not include such customs duties and taxes, which are the sole responsibility of the recipient. Estimated duties and taxes, if applicable, are displayed in a pop up in the bottom right corner of this product page, for your information. Please click on this pop up for more details.

Order Processing Time: 2-4 business days
Shipping Time: 5-8 business days

Returns
As our products are made-to-order, all of our products are to be considered FINAL SALE and non-returnable. We guarantee the quality of our products, so if your order was shipped with a defect or arrived damaged, please contact us at support@underlyn.com within 48 hours of receipt. Please include in your email photos of the issue AND the packaging it arrived in.

View our complete shipping and returns policy here.
The acrylic glazing can be cleaned with a microfiber cloth and, whenever necessary, with an acrylic cleaner and polish.
Keep away from excessive moisture
Remember to occasionally dust off the back of the frame to prevent dust particles from harming the artwork.
Story of its making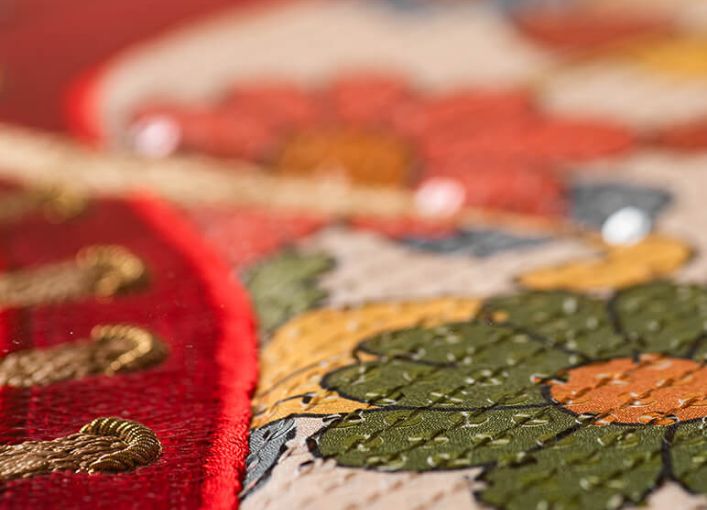 Story of its making
Our sneaker collection is one-of-a-kind, with each piece being a limited edition of one. With different fabric patches and embroidery embellishments, every sneaker has its own unique personality. Intricate thread work that takes hours of delicate handiwork is used to embellish the lace and section outlines for a bold, graphic look. The fabric patchwork is done on an elevated surface, giving this mixed media art a 3D form to make it look like a real sneaker that was framed. Our handcrafted clean white gallery style "Isla" frame ensconces this artwork and makes this masterpiece a cool addition to any space. It comes securely packed in a chic gift box that is almost as gorgeous as the artwork it holds!
Stylist's Notes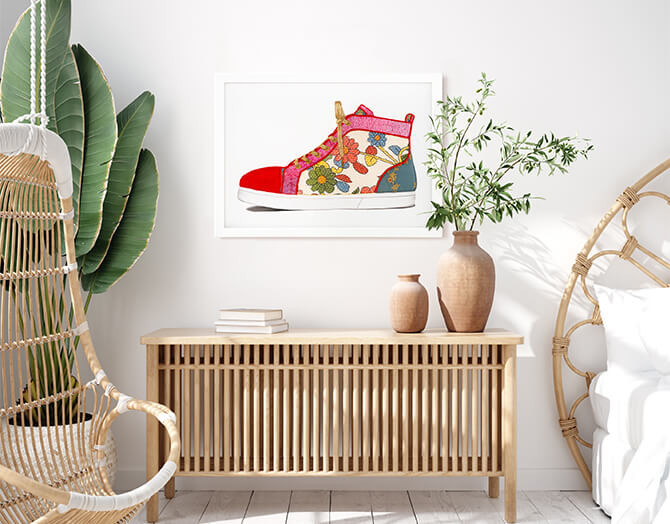 Stylist's Notes
When the Bohemian free-spirited design meets modern minimalism, a refreshing trend of decoration is born called Modern Boho- an eccentric home decor style. This artisan-made textile wall art will add a touch of whimsy and a dose of color to your modern boho room. While a more-is-more attitude is popular when it comes to boho style, "When The Stories Were Simpler" can be a way to incorporate more warmth into a minimalist space.
Stylist's Notes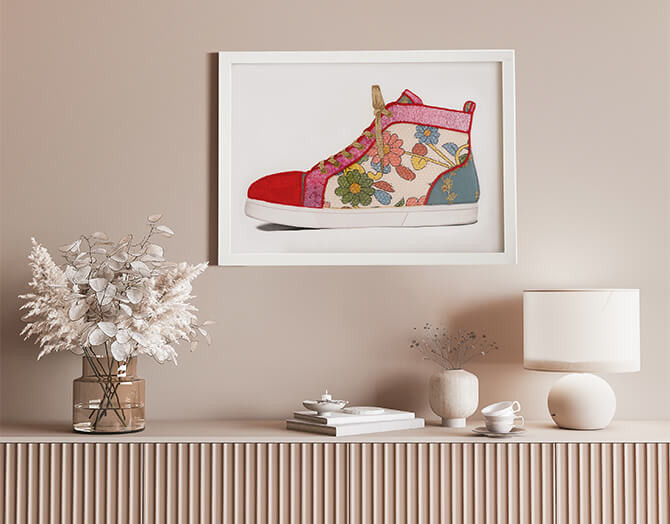 Stylist's Notes
We love the tension this mixed media art has the potential to create. This eccentric masterpiece in a cool, minimal living room will liven up the space and get people talking!
Premium Gifting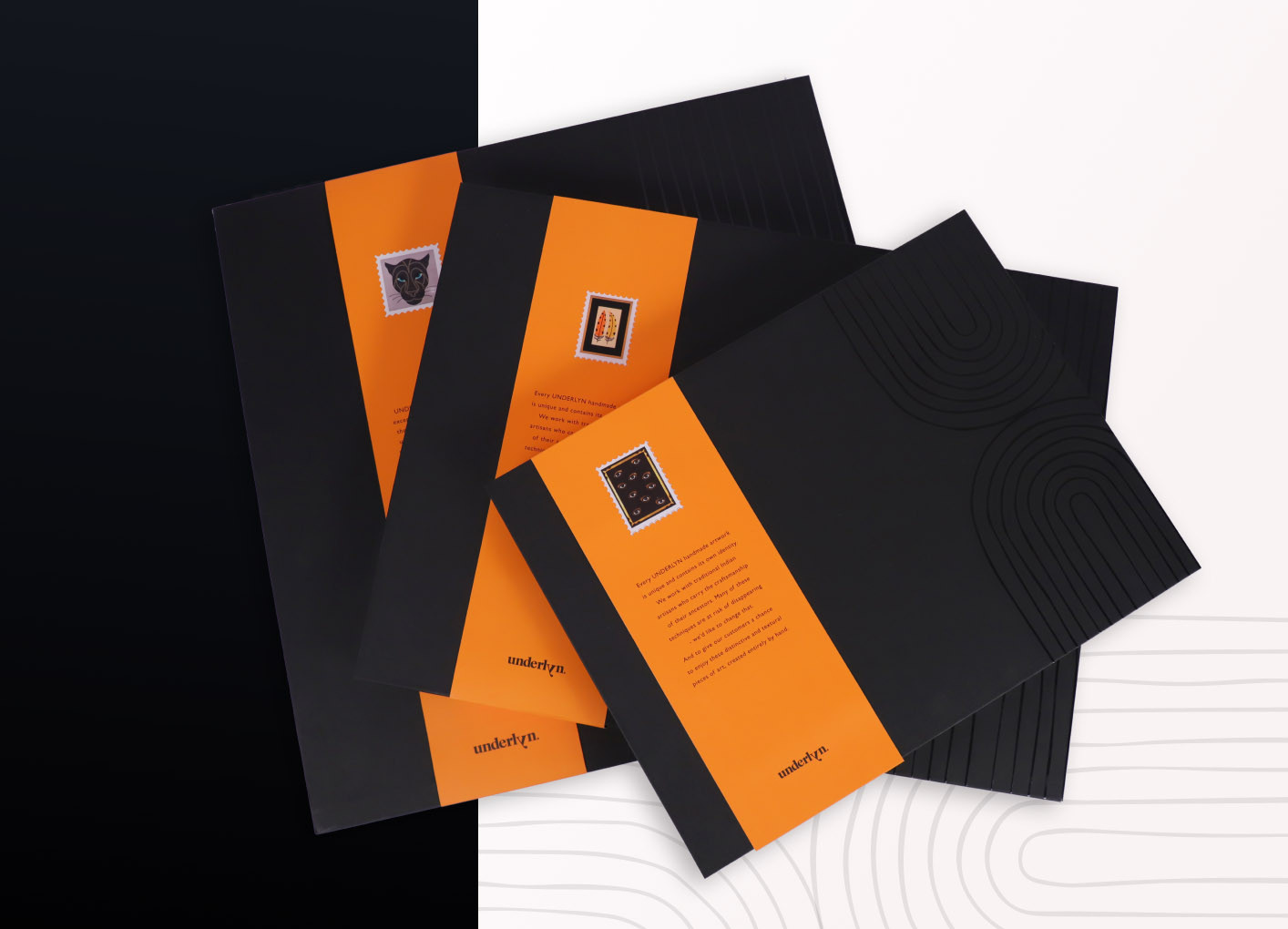 Premium Gifting
Our beautifully crafted products come securely packed in our super-chic, gift-ready boxes that are really as soulful as the art they hold! We believe "packaging" is part of the products we create - and our goal is to make our materials as earth-friendly as possible.

To experience the majesty of the natural world is a privilege we do not take for granted. Even the smallest sustainable gestures can shape our future - that's why all Underlyn packaging is made of either recycled and/or biodegradable materials and is 100% recyclable. Moreover, we put efforts into making these boxes durable and gorgeous, in order to empower you to reuse them.
FAQs
When will my order ship?
Processing and shipping times will vary from one artwork to the next but you will find the estimated timeline for delivery mentioned under the shipping and returns tab on every product page. If you place an order for multiple products, we usually ship them together, and you will see the estimated delivery range at checkout. Once you place an order, you will receive a shipping confirmation email with tracking information as soon as your order is on its way.

You can read our shipping & returns policies here.
Do you ship internationally?
All orders are currently sihpped out of our atelier in India and YES - we ship all over the world! The pop-up at the bottom right corner that greets you with a hello will tell you if we ship to your location. Currently, we ship to over 45 countries, including but not limited to: United States, United Kingdom, Australia, Canada, Republic of China, India, France, Mexico, Hong Kong, Singapore, Japan, Israel, UAE, Republic of Korea, Indonesia, Malaysia, Netherlands, New Zealand, Argentina, and Brazil.

Please note that shipping charges do not include import duties and taxes, which might be applicable for international shipments (shipping out of India) to your country. An estimated value of these import duties and taxes can be seen in the Zonos pop-up in the bottom right corner on every product page.
Which shipping carriers do you use?
At this time, we ship with DHL Express for international orders and Blue Dart for domestic orders (within India).
How much do you charge for shipping my order?
All orders over $500 (before shipping & taxes) are eligible for FREE WORLDWIDE SHIPPING as part of our VIP shipping experience! Orders below $500 are charged a flat rate shipping fee, based on the destination.

Please note that shipping charges do not include any import duties and taxes that might apply to international shipments (shipping out of India) to your country. You can see an estimation of said import duties and taxes in the Zonos Hello pop-up at the bottom right corner on every product detail page. This is only an estimation and you will be solely responsible for any such import duties and taxes.

You can read further about our shipping and return policies here.
Are your prices in USD?
All the prices on the site are in USD and our payment systems process orders in USD. The conversion rate to your currency will happen through your bank or credit card. Please note that we are not responsible for changes in exchange rates.
Which methods of payment do you accept?
Underlyn accepts leading credit cards, including Amex, Visa and Mastercard, as well as PayPal.
What is your return policy?
As most of our products are made-to-order, all orders are considered to be FINAL SALE. We do not offer returns or exchanges on products that are delivered in perfect condition as per the order placed. We stand behind the quality of our products and take great care in packaging them securely. However, in an unlikely event, if you happen to receive an incorrect or defective product, please contact us at support@underlyn.com within 48 hours of receiving your order. Please share photos of the issue AND the packaging so we can find the best solution for you.
You can view our complete return policy here.
Do you offer product customization?
Depending on the value of your order we might be able to accommodate requests for product customization. Please reach out to us at hello@underlyn.com BEFORE you place your order, with your specific request. Product customization might involve an additional cost, which will be communicated to you by our customer experience team.
I want to order your products as a gift. Is there a price tag on the box?
Not to worry! Just check the "Is this a gift?" box at checkout and we will exclude any pricing details from the box containing your order. Additionally, if you'd like to add a personalized touch to your gift, you can choose to add a gift note at checkout. :)
I have another question!
No problem! Send us an email at hello@underlyn.com and we'll get back to you within 24 hours.