Delivery within 10 - 15 days
Free Express Shipping
Final Sale
Securely Packaged
This jacquard woven throw blanket showcases a pair of majestic dalmatians seated amidst beautiful tulips. This throw is first jacquard woven in the USA and then hand-embellished with hundreds of beads and intricate thread work at the Underlyn atelier in India. Whether as a stylish throw on your couch or as beaded wall art, this stunning throw is sure to be a statement maker in your space.

Product Dimensions: 54" x 72"

What's Included:
- Jacquard woven and hand-embellished throw blanket made of cotton, beads and studs
- Comes wrapped in a gift box that is as gorgeous as the artwork it holds!

Note: Since every Underlyn product is an original work of art that's handmade, subtle variations may occur in color and /or craftsmanship. This is what makes our products truly one-of-a-kind.
Shipping
We offer FREE VIP SHIPPING worldwide on orders over $500. Orders under $500 will be charged a flat rate shipping fee, based on the shipping address. International orders (shipped outside of India) might be subject to customs duties and taxes at the time of delivery. Any shipping charge applied does not include such customs duties and taxes, which are the sole responsibility of the recipient. Estimated duties and taxes are displayed in a pop up in the bottom right corner of this product page, for your information. Please click on this pop up for more details.

All products are custom-made-to-order, unless otherwise mentioned.

Order Processing Time: 5-7 business days
Shipping Time: 5-8 business days
Returns
As our products are made-to-order, all of our products are to be considered FINAL SALE and non-returnable. We guarantee the quality of our products, so if your order was shipped with a defect or arrived damaged, please contact us at support@underlyn.com within 48 hours of receipt. Please include in your email photos of the issue AND the packaging it arrived in.
View our complete shipping and returns policy here.
This throw is made of 100% cotton and embellished on top with embroidery, stones, and beadwork. Hence, the safest way to remove loose dust and dirt is by carefully using a lint roller or a soft brush on the textile.
Vacuuming can also be done using a nozzle covered with muslin or stocking, held on with an elastic band.
Do not bleach the textile. Use spot cleaning to remove any stains.
Dry clean only when absolutely required.
Story of its making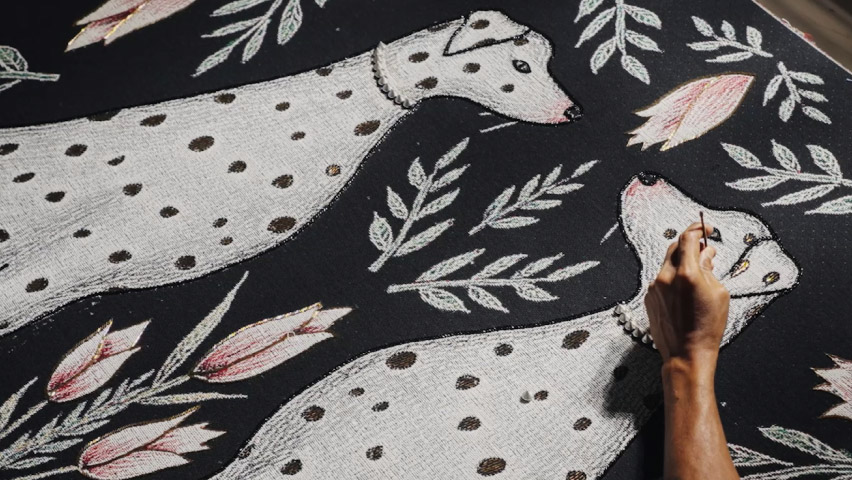 Story of its making
This gorgeous throw blanket is first jacquard woven with 100% cotton in the USA, based on the luxurious design by artist-extraordinaire Catherine Rowe. Underlyn's textile artisans in India then work their magic adding embellishments in the form of intricate embroidery and hundreds of beads to bring it to life! This intricate embroidery and beadwork are done entirely by hand, taking them about 90 hours of meticulous work. The result is absolutely stunning and the craftsmanship involved is second to none! It is a great statement maker, whether you choose to display it as a large beaded wall art or as a stylish addition to your sofa. This embellished throw comes securely packed in a gift-ready and super chic gift box that is as elegant as the fiber artwork it holds!
Stylist's Notes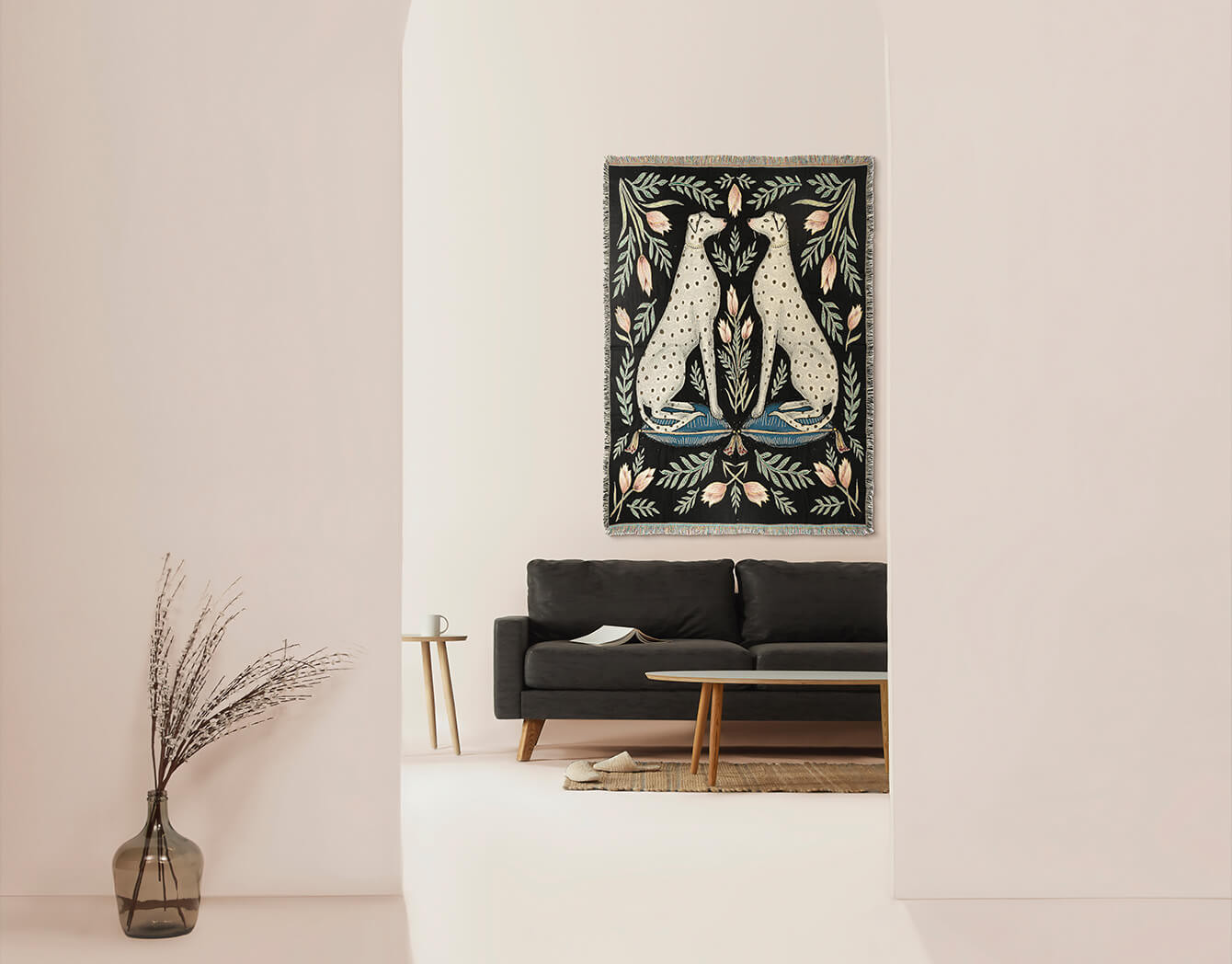 Stylist's Notes
Statement artwork has the potential to usurp everything else in the room for one basic reason - art is a spectator sport. While our eyes will naturally read everything in a living or dining room scheme, most of the larger items there are for use. Artwork, though, is there to be viewed, absorbed, and admired. It's known for being a window to the owner's soul, preferences, and peculiarities. Art says a lot about a person, so the statement runs pretty deep. Take the art larger than life, of course, and the statement becomes all the more vocal, just as in the chic living room pictured.
Stylist's Notes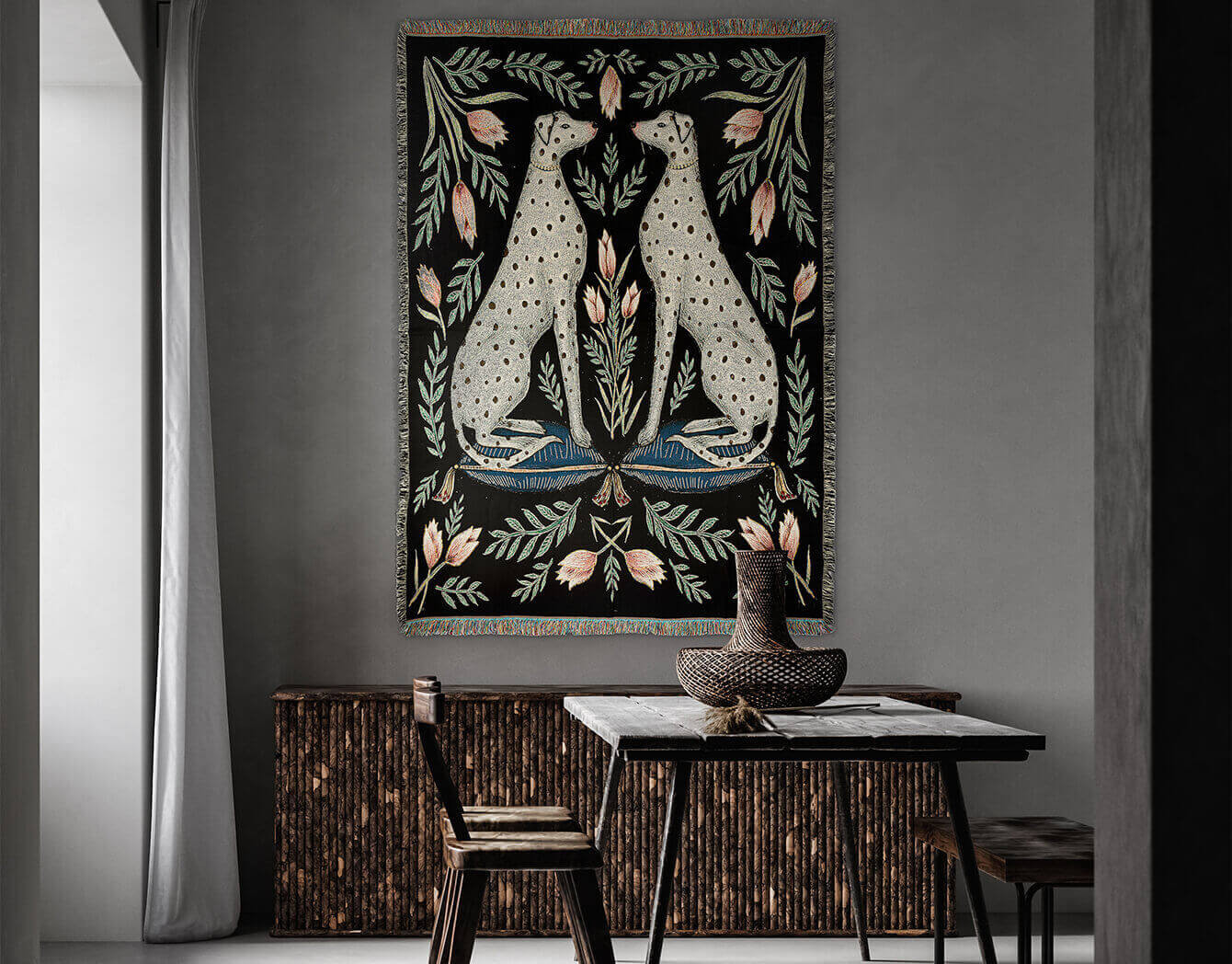 Stylist's Notes
If you want to up the wow factor in your room, try getting your embellished, beaded throw custom framed in lucite. It'll preserve this textile artwork while also allowing for the colors to pop.
Premium Gifting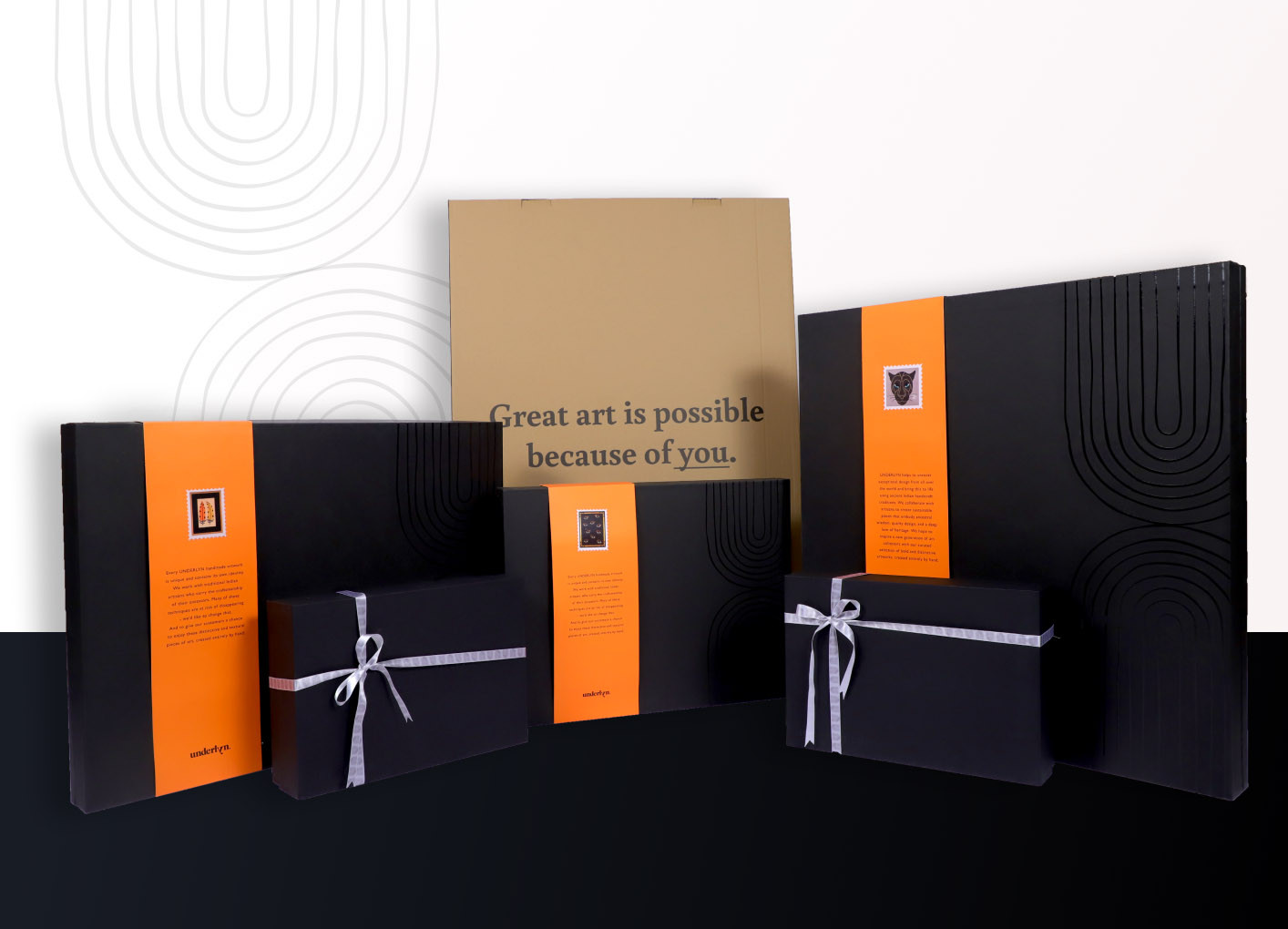 Premium Gifting
Our beautifully crafted embellished throw blankets come safely packed in our super-chic, gift-ready Underlyn boxes that are as soulful as the textile art they hold!
We believe "packaging" is part of the products we create - and our goal is to make our materials as earth-friendly as possible. To experience the majesty of the natural world is a privilege Underlyn does not take for granted. Even the smallest sustainable gestures can shape our future - that's why all Underlyn packaging is made of either recycled and/or biodegradable materials and is 100% recyclable.
FAQs
When will my order ship?
Processing and shipping times will vary from one artwork to the next but you will find the estimated timeline for delivery mentioned under the shipping and returns tab on every product page. If you place an order for multiple products, we usually ship them together, and you will see the estimated delivery range at checkout. Once you place an order, you will receive a shipping confirmation email with tracking information as soon as your order is on its way.

You can read our shipping & returns policies here.
Do you ship internationally?
All orders are currently sihpped out of our atelier in India and YES - we ship all over the world! The pop-up at the bottom right corner that greets you with a hello will tell you if we ship to your location. Currently, we ship to over 45 countries, including but not limited to: United States, United Kingdom, Australia, Canada, Republic of China, India, France, Mexico, Hong Kong, Singapore, Japan, Israel, UAE, Republic of Korea, Indonesia, Malaysia, Netherlands, New Zealand, Argentina, and Brazil.

Please note that shipping charges do not include import duties and taxes, which might be applicable for international shipments (shipping out of India) to your country. An estimated value of these import duties and taxes can be seen in the Zonos pop-up in the bottom right corner on every product page.
Which shipping carriers do you use?
At this time, we ship with DHL Express for international orders and Blue Dart for domestic orders (within India).
How much do you charge for shipping my order?
All orders over $500 (before shipping & taxes) are eligible for FREE WORLDWIDE SHIPPING as part of our VIP shipping experience! Orders below $500 are charged a flat rate shipping fee, based on the destination.

Please note that shipping charges do not include any import duties and taxes that might apply to international shipments (shipping out of India) to your country. You can see an estimation of said import duties and taxes in the Zonos Hello pop-up at the bottom right corner on every product detail page. This is only an estimation and you will be solely responsible for any such import duties and taxes.

You can read further about our shipping and return policies here.
Are your prices in USD?
All the prices on the site are in USD and our payment systems process orders in USD. The conversion rate to your currency will happen through your bank or credit card. Please note that we are not responsible for changes in exchange rates.
Which methods of payment do you accept?
Underlyn accepts leading credit cards, including Amex, Visa and Mastercard, as well as PayPal.
What is your return policy?
As most of our products are made-to-order, all orders are considered to be FINAL SALE. We do not offer returns or exchanges on products that are delivered in perfect condition as per the order placed. We stand behind the quality of our products and take great care in packaging them securely. However, in an unlikely event, if you happen to receive an incorrect or defective product, please contact us at support@underlyn.com within 48 hours of receiving your order. Please share photos of the issue AND the packaging so we can find the best solution for you.
You can view our complete return policy here.
Do you offer product customization?
Depending on the value of your order we might be able to accommodate requests for product customization. Please reach out to us at hello@underlyn.com BEFORE you place your order, with your specific request. Product customization might involve an additional cost, which will be communicated to you by our customer experience team.
I want to order your products as a gift. Is there a price tag on the box?
Not to worry! Just check the "Is this a gift?" box at checkout and we will exclude any pricing details from the box containing your order. Additionally, if you'd like to add a personalized touch to your gift, you can choose to add a gift note at checkout. :)
I have another question!
No problem! Send us an email at hello@underlyn.com and we'll get back to you within 24 hours.